We may earn money or products from the companies or links mentioned in this post.
I have kids that LOVE Cars. So I thought it would be fun to create our own Cozy Cone Motel for their hotwheels and die cast cars!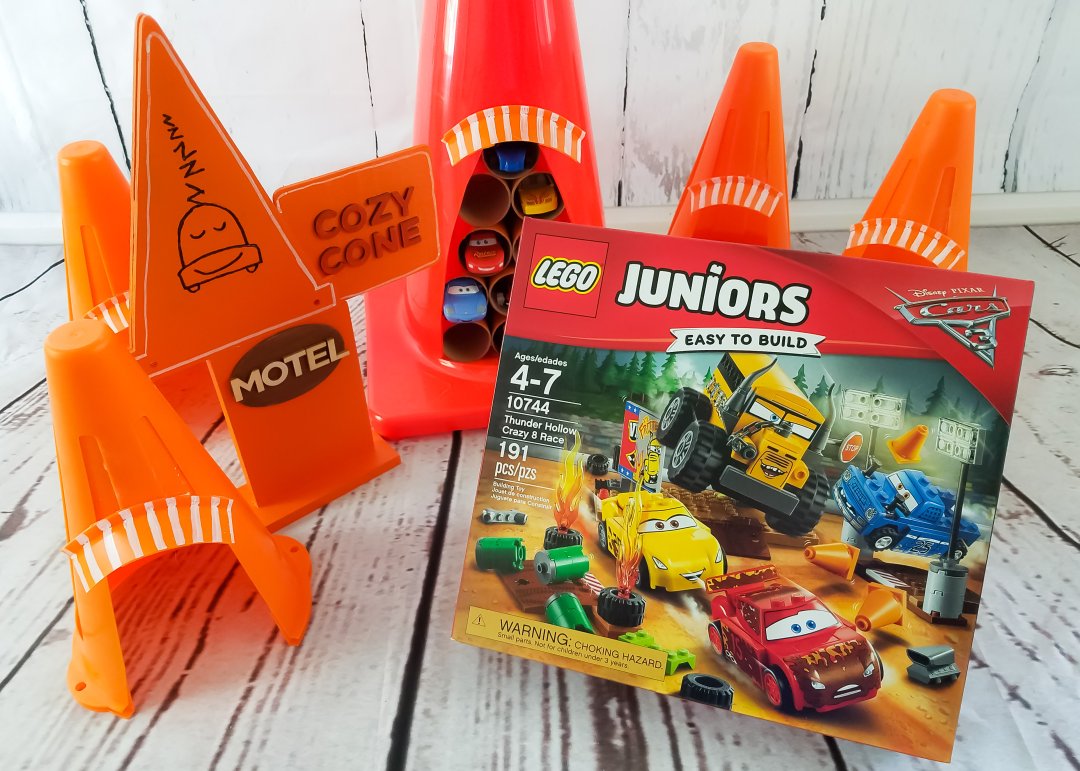 My kids have several Cars themed toys, from LEGO and DUPLO sets to die cast cars, and more. But what they didn't have, was somewhere to park all of those cars.
The Goof jumped at the chance to help me design this Cars Cozy Cone Motel. Partially because it is one of his favorite places in Cars Land at Disney California Adventure (in the Disneyland Resort). He was so excited to help make his own version for home to play with. It is super easy to make, and my kids are loving it!
DIY Cars Cozy Cone Motel
To make this whole set we used:
8 9 inch cones (ours were the kind with slits, so if you get the solid kind, you only need 4)
1 18 inch cone
Scissors and a utility knife
11 craft tubes
Orange spray paint
White paint marker
Hot glue gun
Wood pieces to make sign if desired
To start, we took our 8 – 9 inch cones and stacked them to create 4 solid cones by putting two together and rotating them so the slats were opposite of each other. Then we cut an opening for our cars to go in and out of their cone.
We then used the bottom of the cone and a white paint marker to make the awnings to go over the opening. I glued the awnings on (since the Goof is too young to use hot glue). I found that the cones had no texture to let the glue stick on it, so I added paint to both surfaces to create texture so the glue would stick on. (And trust me, I tried EVERY type of glue before doing it this way.)
That completed our 4 cones for larger vehicles. My son also has diecast cars so we took our large 18 inch cone to make a place for those cars to enjoy their stay. I used orange spray paint on craft tubes and then glued them together in a kind of pyramid shape (checking that it would fit in the cone). Then I cut an opening in the front of the cone using a utility knife. (The Goof sat all of this out.)
I placed the craft tubes in the cone, then used a piece of cardboard that I cut to fit the opening, covered in orange duct tape to make a floor and help hold the tubes in place.
I used another piece from the smaller cones and a paint marker to make the awning for this piece as well.
Then I used a couple of wood banner pieces, and other wood items to make a sign to give it a nice finish. For the sign I used wood glue to attach all the different pieces.
The Goof has spent all week playing with his new Cars Cozy Cone Motel.
He also decided he was ready to pass on the last of his "little kid cars" to his brothers. Not only that, he wanted to let them play with part of the Cars Cozy Cone Motel set.
He had so much fun showing the twins how to use the Cozy Cones to give the cars a rest. It was a real big brother moment for him, passing on his cars and teaching his brothers how to play with the new toys.
Of course, when nap time came around, he was happy to get back out his own set to play with again.
It was a great moment as a parent to see my husband experiencing toys he loved (LEGO sets) with the Goof, and then see the Goof turn around and share how to use his old toys and the Cars Cozy Cone with his little brothers.