We may earn money or products from the companies or links mentioned in this post.
This shop has been compensated by Collective Bias, Inc. and its advertiser. All opinions are mine alone. #TearASquare, #Brawny, #TargetFinds
Is anybody else in charge of their family reunion this year? My husband and I (so basically just I) am in charge of planning one for his family this year. This is not my first rodeo planning a family reunion, so I have been able to do it rather stress free this time around, and still pull off a great time. Today I am going to share my sanity saving tips for planning a family reunion so that you can save yourself a lot of time and headaches.
Tips For Setting Date & Location
Sometimes the hardest part is just setting up the when and where. Here are a few tips to get past that first big hurdle.
Picking a date
Let's start at the beginning – choosing the date. The first family reunion I was in charge of planning, it was more centered around getting a family photo for my parents, all of my siblings (there are 8 of us) and their families. All the way down to my parents' great-grand-children. So of course, for this reunion, we had to have a date that EVERYONE could attend. Yeah, that was a huge headache.
The next one I planned, I chose 3 weekends, and asked which ones worked best for others. Rather than stress on finding a weekend when everyone could be there, I chose a weekend most people could be there. It helped a lot.
Sanity Saving Tip: If you plan on making it an annual event, pick a specific date/weekend that you hold it every single year. Example: Always the third weekend in July.
Where to hold your reunion
Locations are a lot trickier. If your family is spread out, like mine and my husband's, you have to try and find a central meeting area. With my family, the majority live in the same town as me, and it is pretty central to those that are spread out, so we usually hold them here. My husband's family is a bit different though, so instead, we chose a destination reunion but one that was a day's driving distance.
Tips For Planning Family Reunions: Delegation
The biggest tip for planning a family reunion and keeping your sanity is to DELEGATE! Seriously, tell others what to bring, put them in charge of coming up with some of the entertainment and more. The less you have to do, the better.
But be careful when delegating. Be sure the person will follow through. I don't suggest delegating necessities either. Instead, you purchase the necessities, seriously a quick trip to Target or hopping on Target.com and picking up your order can save you a huge headache when someone suddenly doesn't show up.
Sanity Saving Tip: Just click the photo below to start shopping your family reunion necessitites like Brawny® Tear-A-Square™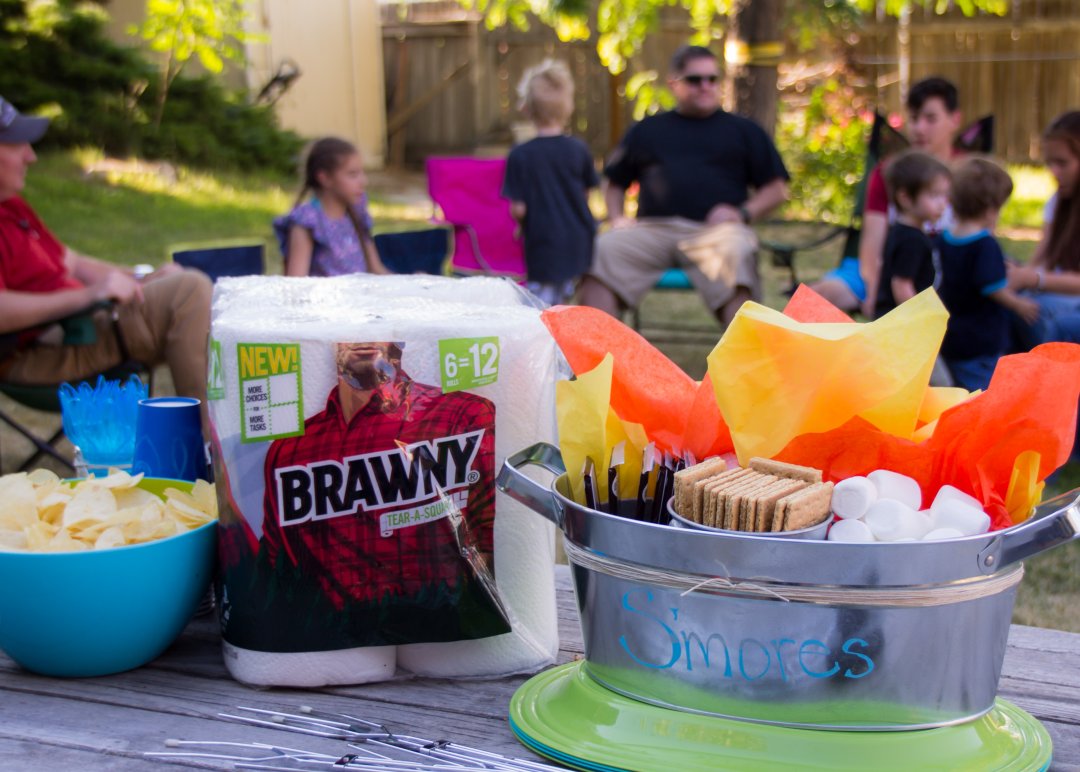 What do I mean by essentials? Utensils, cups, plates, paper towels, and basic food for starters.
Notice I didn't put napkins on there? Yeah, because everyone has that one family member that doesn't want to bring food, and in some families (ahem…mine) it is also the person that might not show up. So I assign that person napkins. And then I simply make sure to pick up paper towels that can double as napkins.
My favorite right now are the Brawny Tear-A-Square paper towels. Unlike others that let you choose between a full or half sheet, these have a 1/4 sheet (square) option (as well as 1/2 and full sheet). They are super absorbent so I personally like them better than napkins anyways. They make it so I can easily have a backup for when the family member assigned napkins doesn't show up.
Sanity Saving Tip: Having a multi-purpose item is great! But having one that you can choose the size also helps it last longer so you don't have to pack as many rolls! (Save those extras to use at home!)
I also suggest having a few fun activities that you are in charge of, in case others fall through. We all love our family, but there is probably a reason you were the one chosen to plan the event. Maybe they are forgetful, have a lot going on or something else, but everyone knows you are a planner and responsible, so it doesn't hurt to plan for others to fall through.
Family Reunion Planning Tips: Keep Decorations Simple
I get it, you got online and saw a ton of super fancy set ups for family reunions. Banners, balloons, crazy DIY centerpieces. STOP! Not only will you have to make all those things, you will have to set up and probably tear down. That is going to test your sanity.
Instead, I have a couple super quick tips to still have a chic/trendy family reunion, without stressing yourself out or spending days on end crafting.
Pick a color scheme
Picking a color scheme can really help tie things together. I chose a blue and green color scheme because not only do I love those colors together, but I already had several items I could use in those colors. Including food baskets which I simply lined with the Brawny Tear-A-Square 1/2 sheets.
Cute & Functional Rustic Mason Jar Containers
While I was at Target, I checked out the dollar spot and seasonal sections and found some super cute stuff! I spent maybe an hour on these items, and they made a big impact.
To start, I bundled up utensils. (Remember, you should not be delegating these.) I always find food lines get hung up at the utensils as people try to grab the different ones they need. So bundling them can help make it easy to grab and go. I just used small rubber bands to cluster them together.
Next, I took mason jars and some twine. I wrapped a bit of twin around them, tied it in a knot, and cut the ends. The whole rustic look is in right now so they were super cute to use.
I did this with several mason jars, then put the utensils in them, another one for corn on the cob holders, and one for straws.
Rustic S'mores Kit
I still wanted something super cute that people would ooh and aah over for later around the fire. I had found these buckets in the dollar section at Target when doing my reunion shopping.
I simply used more twine around the large bucket (I did need some hot glue to help it stay in place) and then wrote "S'mores" with a blue chalk marker. Then I put some orange and yellow tissue paper and the three small metal buckets inside. The tissue paper makes it look like a fire (SO CUTE!).
Be sure if your metal buckets are not food safe, that you line them or do not place bare food in them when you fill them up. Then I put it out with a roll of Brawny Tear-A-Sqaure paper towels for others to use. My kids have some sensory issues, so having a 1/4 sheet to use to hold their s'mores as they ate them was a huge help.
I hope these sanity saving tips help you pull off a chic/trendy family reunion without wanting to pull your hair out before it is over!